The Ashland / Gotham Market
04 / 05 / 2017
We are happy to see The Ashland project finalized! This was one of our favorite projects to date. We had the opportunity and pleasure to once again work with SPAN Architecture, SBLD, Jeffrey Beers International, and Gotham Construction to bring a variety of fixtures to the space!
The Ashland is a 53-story tower located in Brooklyn New York's Cultural District at Fort Greene. The mixed use building houses beautiful modern residential homes along with all the full service ammenities you could ask for. From outdoor movie viewings, outdoor bar and lounge, gym, to a test kitchen, this place has it all! The base of The Ashland features the beautifully modern Gotham Market dining and drinking venue with 8 establishments including a rotating pop-up space for local chefs.
AYRE provided custom decorative fixtures for the residential spaces including kitchen, bath, and corridor fixtures. Large format custom pendants were produced for the public lounge and 53rd floor billard room. Featured large format pendants along with matching sconces and mason jar chandeliers fill the entry level Gotham Market dining hall.
AYRE was tasked with developing and producing a quite a variety of fixtures for this space. From single sconces to 28 foot long pendants, we created some amazing pieces. The scale and aesthetic diversity was a wonderful challenge!
The featured fixture in the Gotham Market is a 13ft tall pendant. Nine of these fixtures fill the market place with beautiful mouth blown glass made locally in Brooklyn by KEEP.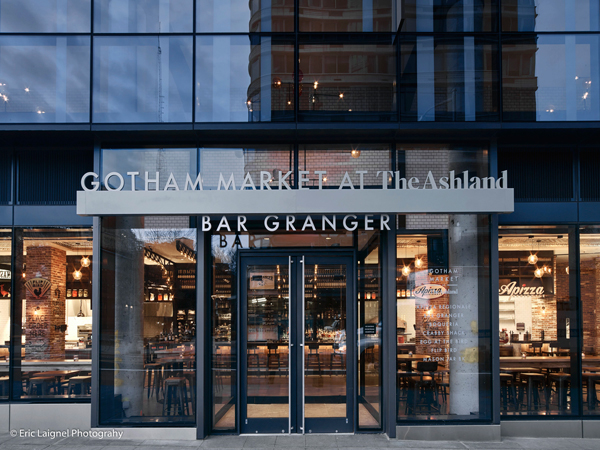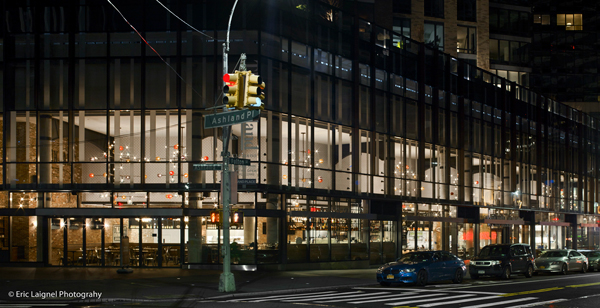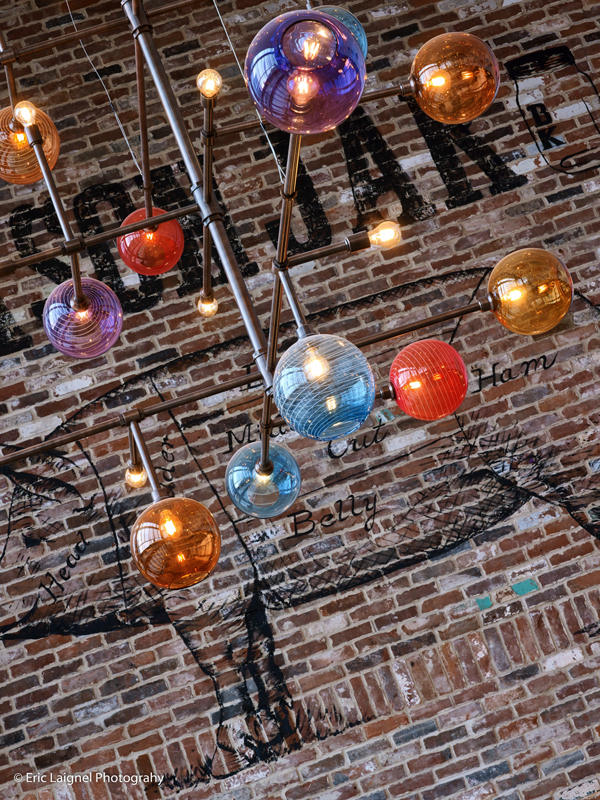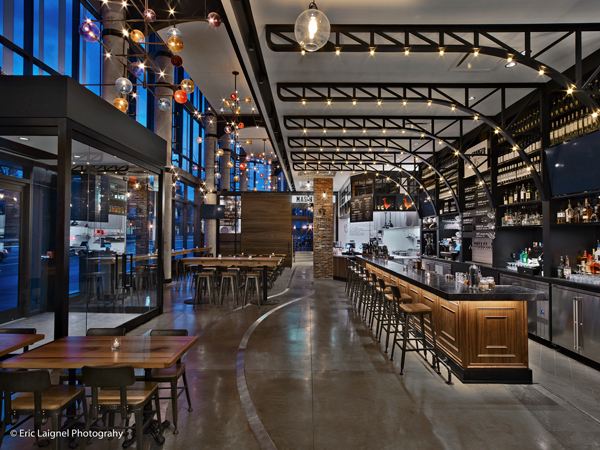 This fixture had its share of obstacles to overcome. The final design relied on an even distribution of weight to keep the fixture straight. With the asymmetrical placement of glass and variety of "branches" in both length and arrangement, AYRE was able to properly balance the fixture. The fixture was broken up into 5 horizontal clusters. The vision for the fixture was to install from the top down, attaching each pre-wired cluster to the one above. A special hub was designed as a master key, making each cluster line up perfectly with the one above, making a uniform and clean appearance.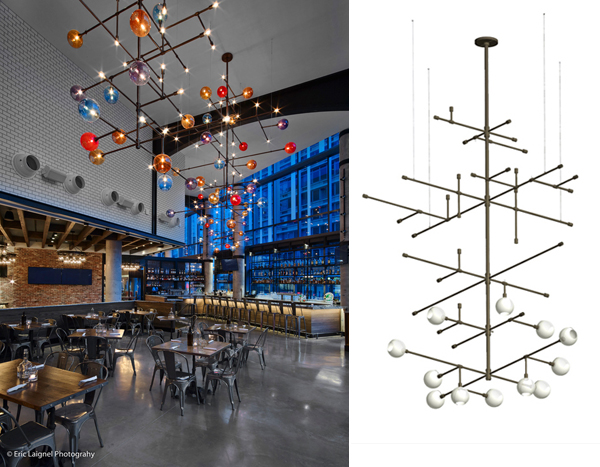 Additional sconces were designed and developed to match the pendants.

AYRE created custom wagon wheel inspired chandeliers for the Mason Jar, located in the Gotham Market. These fixtures use Wide Mouth Mason Jars as the decorative diffuser. Custom CNC'd cap's thread on to the jar which is illuminated with the same exposed filiament led lamps used in the large format featured pendants in the space.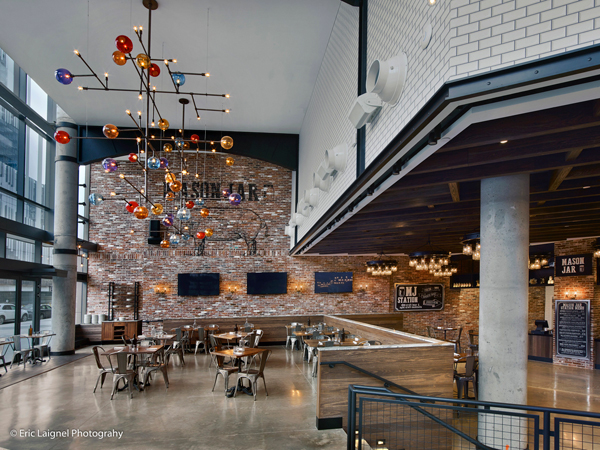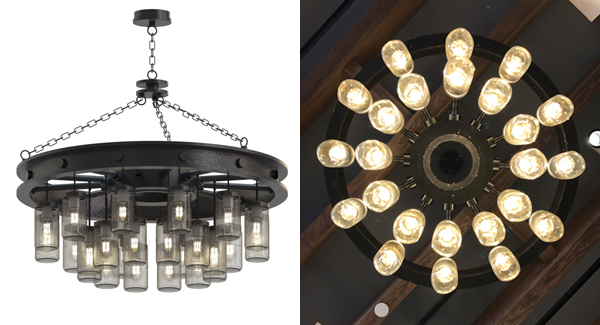 From render to final product.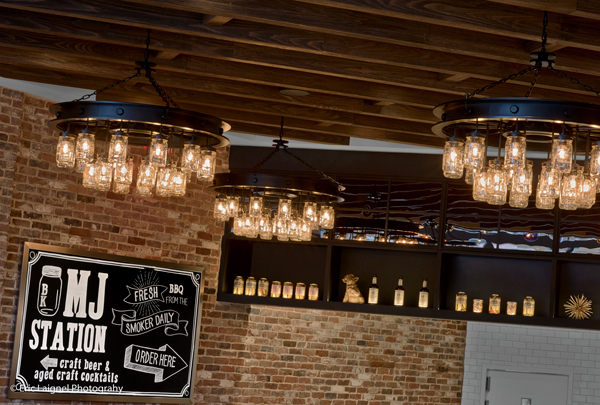 Moving up the building and into the residential space of The Ashland, AYRE provided a number of fixtures for both the residential units and public spaces of the tower.
Each floor is illuminated with a custom sconce with an integral LED light engine. AYRE collaborated closely with SPAN to bring this unique fixture to life. The sconce has a dual finish with a hand painted faux wood interior to match other elements of the space.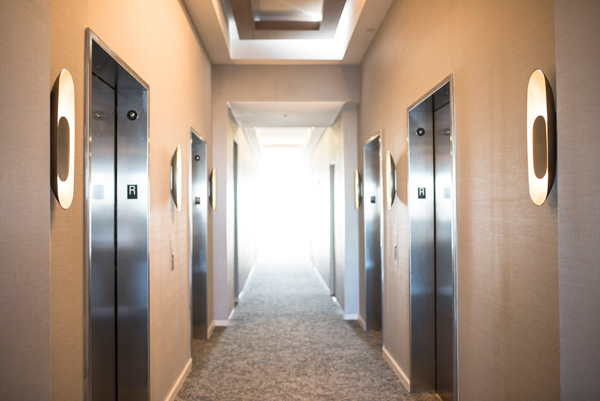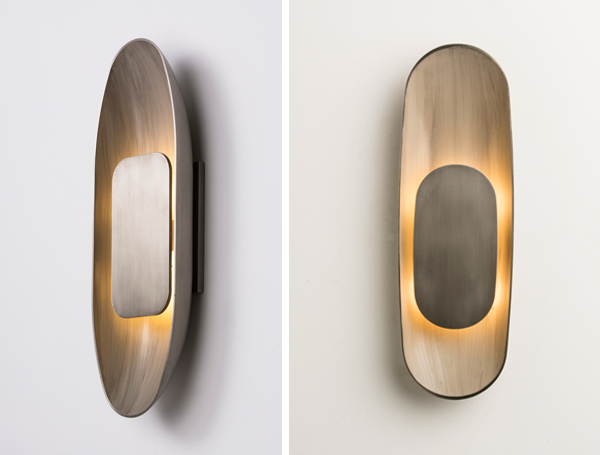 Prototype and final fixture.
Custom LED modules with quick connect assembly.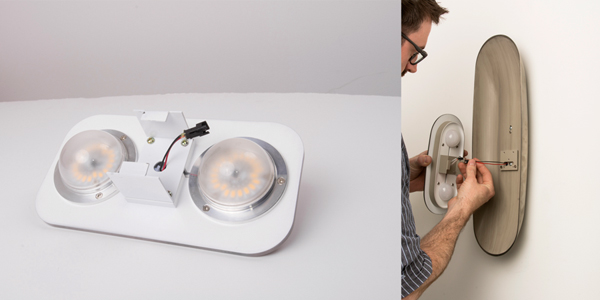 A matching custom door knocker with room indicator was produced with the same faux wood accent to match the corridor sconces.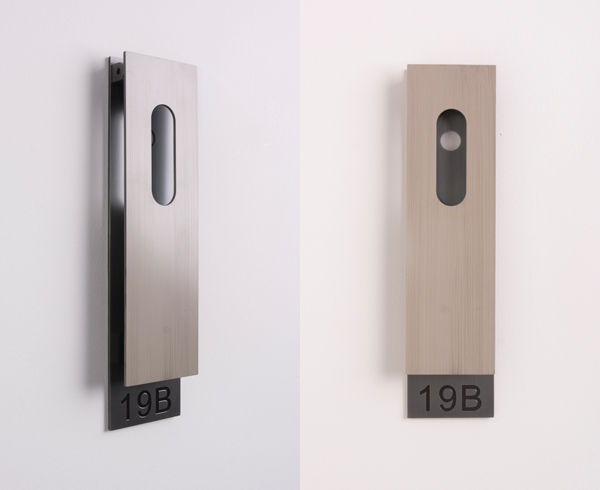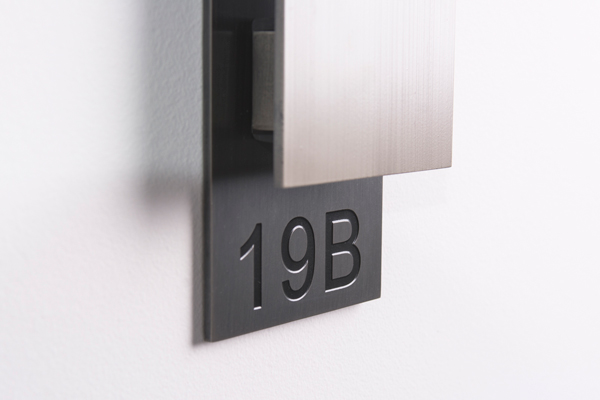 Moving into the residential apartments, AYRE worked closely with SPAN to developed a unique bathroom vanity sconce. The final fixture measures 4ft wide displaying a large piece of tempered glass with a vertical fluted texture. A pivoting arm provides security for the glass and aids in ease of relamping.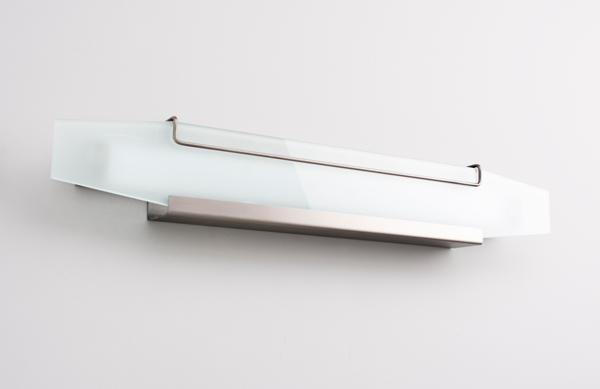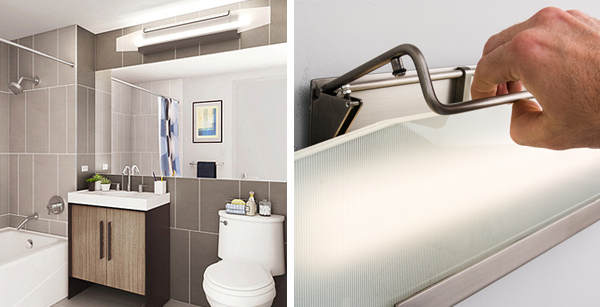 rendering via theashland.com
A custom flushmount with a cased glass diffuser was created for the kitchen.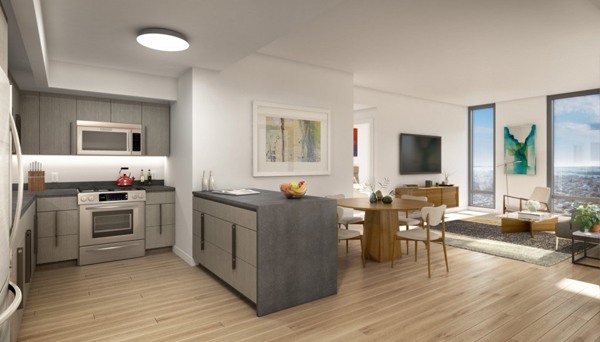 rendering via theashland.com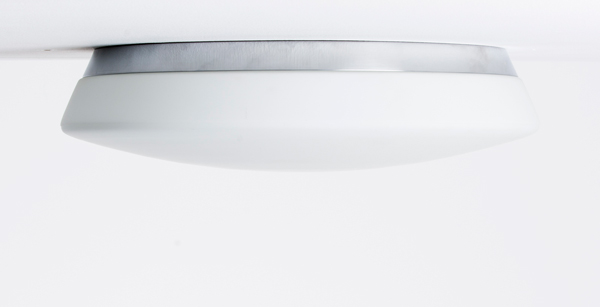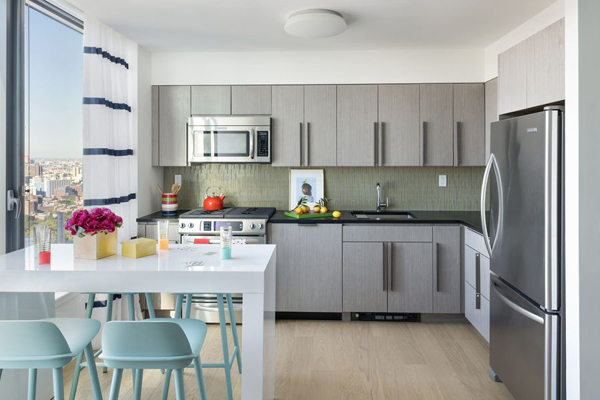 rendering via theashland.com
Working closely with SPAN, AYRE developed a unique large format pendant for the public residential lounge. This fixture spans a massive 24 feet! AYRE created the fixture in 4 finished sections that fit together on site to minimize installation time. 3-D models were made to create the organic diffuser forms specified by SPAN. This is definitely one of our favorite fixtures of 2017!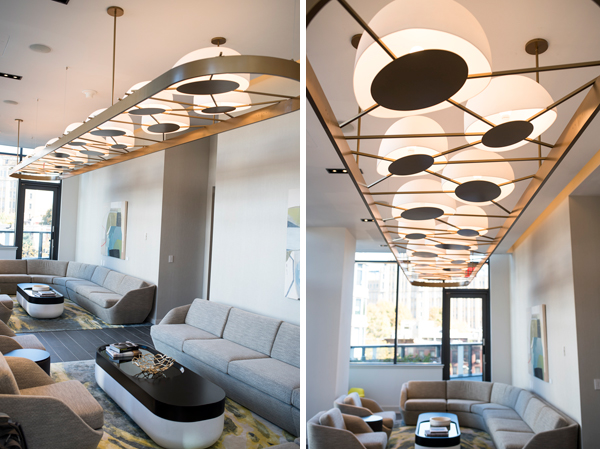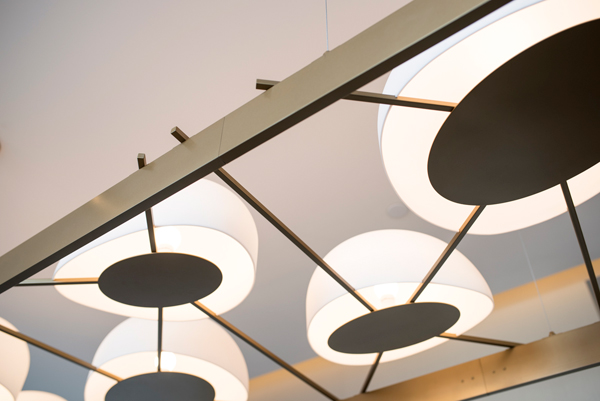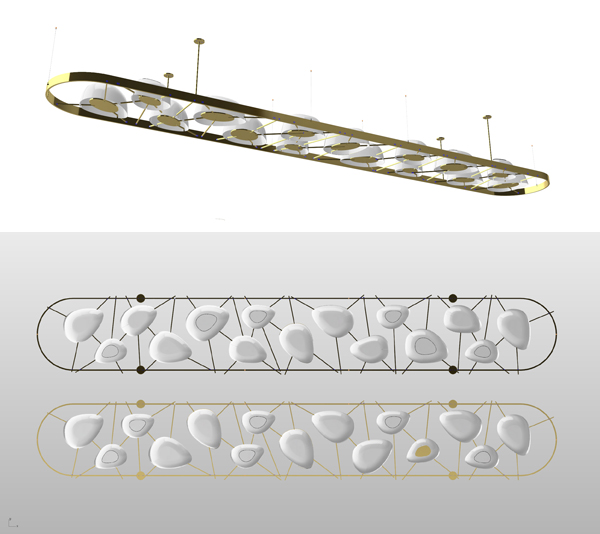 Lastly, a pendant was developed for the penthouse billiard room. AYRE created a pendant using the same wood veneer to compliment the custom pool table. The large lightbox beautifully illuminates the playing surface, while the engineered lightweight body allows for easy installation without the need for secondary support efforts.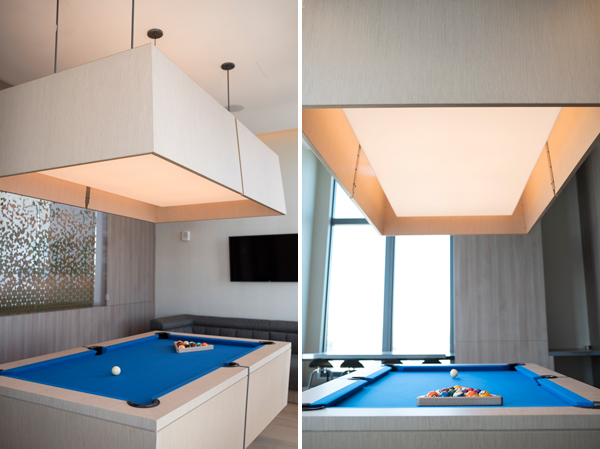 Links to press coverage for additional images and background on design directions:
Cool Hunting: Architect and Designer Jeffrey Beers Discusses Gotham Market
Eater NY: Gaze Upon Gotham Market at The Ashalnd, Brooklyn's Newest Food Hall
The talented people involved:
SPAN
SBLD
Jeffery Beers International
Gotham Contruction
KEEP
This is a great example of what AYRE can deliver for your custom needs. We take on projects of all sizes and quantites.
Give us a call or email to discuss your next custom project with us!
Toll Free: 877 722-AYRE (2973)
Tel: 508 205-0545
info@ayrelight.com